Neural Enabled Prosthesis for Upper Limb Amputees
Neural Enabled Prosthesis for Upper Limb Amputees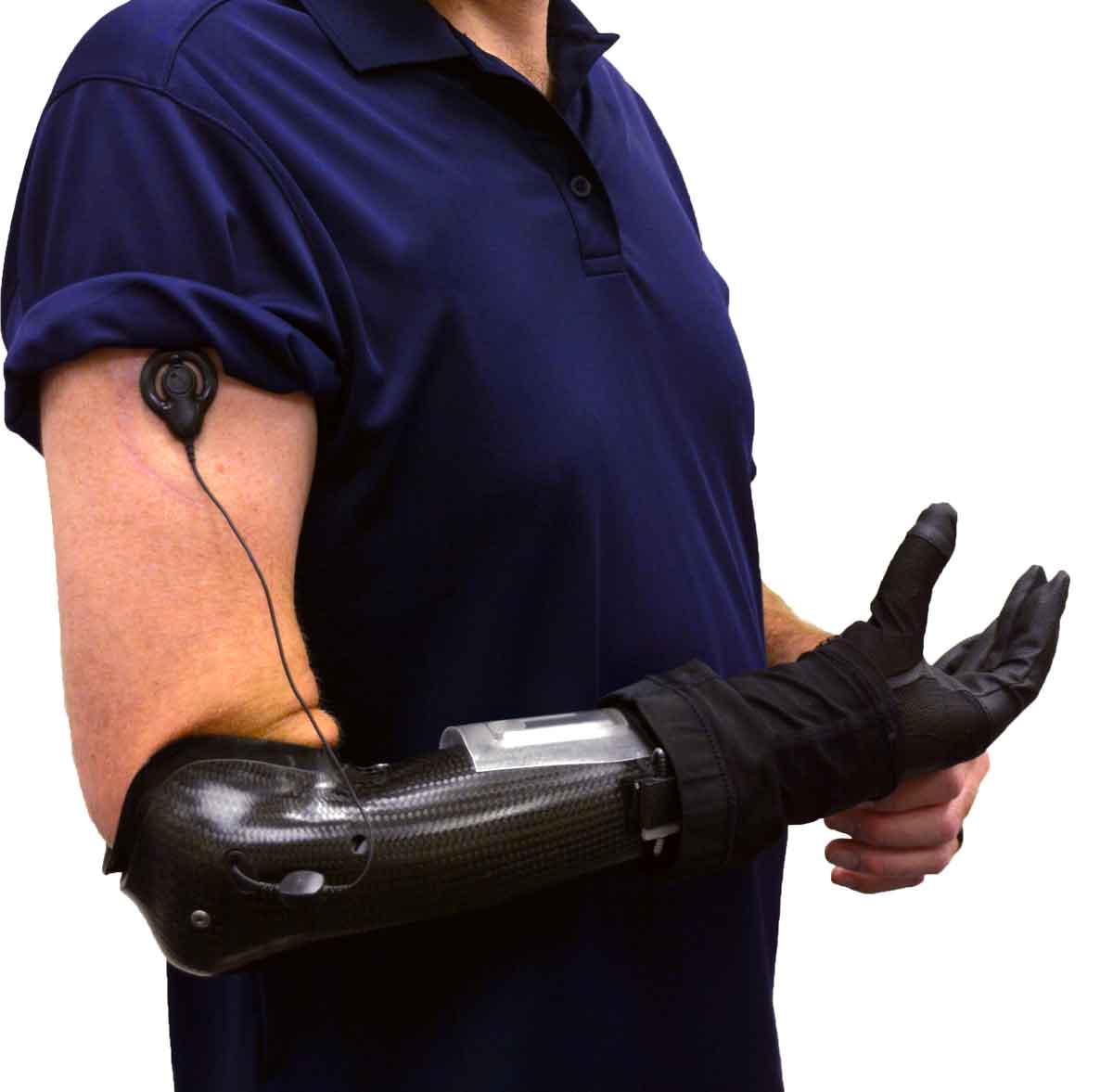 Research Participants Wanted
for the study: Neural Enabled Prosthesis for Upper Limb Amputees
Supported by:
Department of Defense (DOD)
National Institutes of Health (NIH)
IRB Approved at the Protocol Level 07/01/2022
20131222
#29940913.1
Clinical Trial #: NCT03432325
---
---
Goal of this Study:
The purpose of this study is to evaluate a new investigational prosthetic system called the neural-enabled prosthetic hand (ANS-NEPH). It is intended to provide the sense of touch, grasp force and hand opening to the user by sending electrical stimulation pulses to electrodes implanted in nerves of the residual limb. The system uses measurements from sensors in the prosthetic hand to adjust the pulses continuously so that the user gets sensation as tasks are performed with the prosthesis.
The US Food and Drug Administration classified this device as an investigational device and allows it to be used in this research study. The study is supported by the Department of Defense (DOD) and the National Institutes of Health (NIH) and is being conducted by a research team that includes biomedical engineers and scientists, and a clinical team that includes members such as neurologists, physiatrists, prosthetists, occupational therapists, and surgeons. If successful, the information from this research study will help researchers and clinicians develop prosthetic devices that are more effective for people with upper extremity amputations.
Who?
18 years of age or older with a lower arm amputation (below the elbow) that was done at least 9 months ago.
Absence of other major medical concerns (cardiovascular and respiratory disease, diabetes, pressure ulcers, etc.).
Reliable transportation to and from sites within Fayetteville, AR.
Travel reimbursement might be available if long-distance travel is required.
What is involved?
To stimulate the nerves and give sensation to the user, a stimulator (a small disk-shaped device that has the stimulation electronics) and several electrodes (fine wires connected to the stimulator) will be implanted in the upper part of the residual arm. The electrodes will be implanted into two nerves of the arm and the stimulator will be placed in a small pocket under the skin. The stimulator communicates wirelessly with the prosthetic hand.
You will be asked to participate in approximately 75 sessions in the laboratory, each of which will last 2-3 hours. You will be asked to: characterize sensations you feel when your nerves are stimulated, open and close the prosthetic hand around different objects or pick up and grasp objects, and perform activities that are a part of daily life (such as opening and closing a zipper or picking up a coin) with the prosthesis. Surveys about prosthesis use and phantom or stump pain will be given occasionally. After you learn how to use the ANS-NEPH system in the laboratory, you may take it home to use in place of your existing prosthesis.
How long will I be involved in the study?
You will be in the research study for about 2 years after the neural stimulation system is implanted. You will need about 3 days for completing the preparation for the surgical implant. After the implant, for 12 weeks, you will be required to attend 3 experimental sessions per week; for the next 12 weeks, you will be asked to attend a set of 3 sessions every 4 weeks. During the rest of the 2-year period, you will be asked to attend a set of 3 or one single session alternatively every 6 weeks.
Where will the study take place?
The implant surgery will occur at the University of Arkansas for Medical Sciences in Little Rock, medical screenings will take place at Snell Prosthetics and Orthotics and the Orthopaedics & Sports Medicine Clinic in Fayetteville, and follow-ups will take place at the Orthopaedics & Sports Medicine Clinic in Fayetteville or the Jackson T. Stephens Spine & Neuroscience Institute in Little Rock. The fitting for the socket of the ANS-NEPH will take place at Snell Prosthetics and Orthotics.
The experimental sessions will be performed at the University of Arkansas Fayetteville.
Is there Compensation for Participating?
For each study session at the University of Arkansas Fayetteville, subjects will be compensated $50 in cash.
All research activities including study related medical examinations, study related materials, will be provided free of charge. You will not need to pay for tests and procedures that are done just for this research study.
All other tests and procedures that are part of your regular health care will have to be covered by you or your health plan.
What are my incentives?
You will receive a prosthetic system that is intended to restore some sensations such as the perception of hand opening/closing and grasp force. Note, however, that this is an investigational device and the purpose of this study is to determine if such sensations can be provided to you and if those sensations improve your ability to use the prosthetic hand.
We anticipate that you will contribute to general knowledge and understanding of function of the severed nerves of amputees and that this knowledge and understanding will aid in the development of prosthetic technology that could provide amputees with a higher level of functionality.
---
ANS Group- Neural Enabled Prosthesis for Upper Limb Amputees Informational Handout (PDF)
ANS Group- Neural Enabled Prosthesis for Upper Limb Amputees Recruitment Handout (PDF)